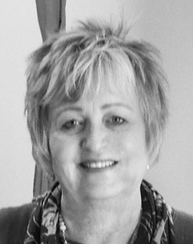 Charlotte Cornett has an education background in painting, print making, computer graphic design, and small metal works. She currently divides her time between Dallas, Texas and Santa Fe, New Mexico where she maintains studios. Her work has been shown in galleries and juried exhibitions across the United States. Images by Cornett have been included in many art publications.
"I create these works by layering color, mixed media, and collage items. This intuitive exploration starts with a blank page. Many layers of paint, lines, and textures are added and removed. This creates the excitement that I experience when going through this creative process which leads me to return again and again.
My visual knowledge built from my unique memories and experiences is used to reveal the images in each painting. Scraping, sanding back in, covering and revealing comes together in these abstract expressionist works.
The encaustic paintings using an ancient art form involve layers of hot melted wax. These layers are then fused to the surface using a torch. The result is a broad range of surface effects and a luminous translucency that is unique to the encaustic medium."
​
Creating from the Heart, Lovers Lane United Methodist Church, Dallas, Texas January-March 2017
2015 Encaustic Art Institue, Grand Opening Exhibition, Santa Fe, New Mexico
"State of Neutral" selected by I. O. Metro Furniture for inclusion in their nationwide Fall 2014 collection.
One Artist Road Gallery, Milan Gallery and Edith Lambert Gallery, Santa Fe, New Mexico
Artizen Gallery, Quorum Gallery, Fairmount Gallery, Dallas, Texas
Children's Foundation of New Mexico, included in their 9/2014 Auction Gala
New Mexico's Cancer Foundation Gala, included in their 2/2014 auction
International Encaustic Association, "Wax Digital" Juried on-line Show 2013
2008 Hecho En Dallas/Made in Dallas-5th Annual Juried Exhibition - Latino Cultural Center, Dallas, Texas
2008 Texas Wax, Dallas & Houston, Collaborating Artists Media Project, Inc. Dallas, Texas
2006 TVAA Signature Exhibition, Plaza of the Americas, Dallas, Texas
2006 & 2007 Inclusion in the Dallas Art Calendar
St. Louis Art Fair, "Deep Ellum Graffiti" chosen official painting for the show poster
Signature Member Status in Southwestern Watercolor Society and TVAA, Texas Visual Arts Association